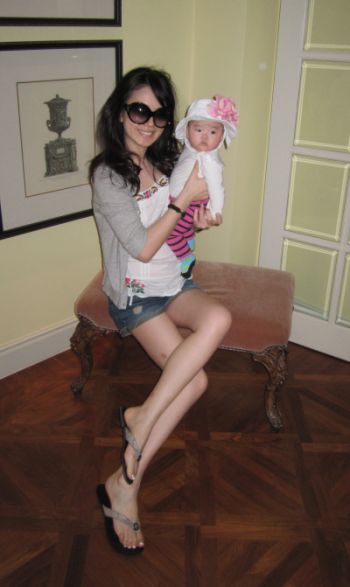 For all the ladies who want to know how to make your legs look longer and skinnier..it's all about the angle and pose!
Sit at the edge of the chair, angle your body to the side and remember to suck in your stomach and sit up straight.
Next, cross your legs but DO NOT press them together. If you press them together the flesh on your legs will double up and magnify, hence flabby legs.
Make sure one leg is higher than the other. Finally, the camera must be shooting down at you from a higher angle (meaning you must be sitting down and your photographer standing up) and VOILA…
Model like proportions!
Beauty Snob Note: (My friend Melody just had a baby in August but from this photo she doesn't look like she just gave birth 16 weeks ago! So of course I had to ask her the secret and she willingly shared. Learned from a Vogue photographer no less!)